FMDV detection kit - Mmiso® FMDV pan detection kit
Foot-and-mouth disease virus (FMDV) is the pathogen that causes foot-and-mouth disease.
The disease, which causes vesicles (blisters) in the mouth and feet of cattle, pigs, sheep, goats, and other cloven-hoofed animals
is highly infectious and a major plague of animal farming. This disease occurs in most parts of the world, and it is an infectious
disease that can occur even in places where foot-and-mouth disease has not occurred for a while because of the large number and
number of host animals and high infectious nature.
Product Explanation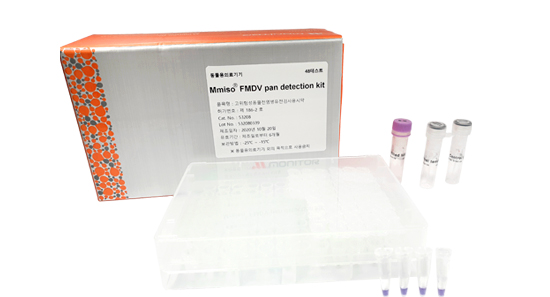 Mmiso® FMDV pan detection kit is an in vitro
diagnostic reagent for animals that helps to
confirm FMDV infection with high sensitivity
within a short time. It uses nucleic acids isolated
from blister fluid, blister epithelial tissue,
blood, or culture fluid of cell of animals
with foot-and-mouth disease symptoms, and
uses 7 serotypes(O, A, Asia1, C, SAT1, SAT2,
SAT3) are qualitatively analyzed by loop-
mediated isothermal amplification method.
Product Features
1. Immediately check for infection through color change
2. Inspection products using the isothermal amplification technology
3. Can detect infection without expensive equipment
4. Diagnose within 40 minutes after sampling
5. High susceptibility and susceptibility of virus detection
Clinical material
Blister fluid, blister epithelial tissue, blood, culture fluid of cell
Storage Temperature & Date of expire
Name
Whether or not
to open
Storageconditions
Validity period
(from date of manufacture)
Note
Mmiso® FMDV
pan detection kit
Unopened
-25 ~ -15℃
6 months from date of manufacture
Disposable products, storage in frozen condition
How to use
Optional products
COMPATIBLE INSTRUMENT

Duxcycler

Cat. No.82301
ApplicationNucleic acid amplification
Specification150*150*150(mm)/25wells

MXM-L1

Cat. No.82302
ApplicationNucleic acid amplification
Specification130*130*90(mm)/8wells
※ Please contact by email for details.